What is AdWords Express?
Express started out in July 2011, targeting business owners with little to no experience in online advertising. It's essentially a stripped-down version of the main AdWords offering from Google, and will only ask the advertiser for the most basic of information to get ads running.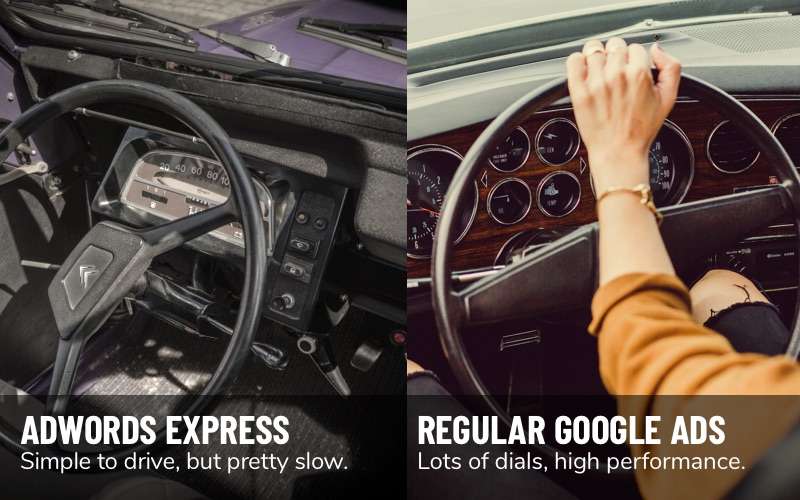 Is Express any good?
The downside of Express is pretty simple: because it makes setting up an account so easy, it removes a lot of the options for controlling the way it behaves.
So in reality, an Express advertiser sets a budget, writes some basic ad copy then leaves the rest up to Google. If the advertiser wants to make decisions based around return on investment, Express is not the best move.
The optimisation of an Express account is extremely limited – you won't have the ability to see exactly what somebody typed in before clicking on your ads, so you could be showing for some pretty irrelevant searches. Most of the optimisation options that I would use aren't visible.
The majority of Express advertisers probably don't have the time or expertise to monitor and make these changes, and it's likely that there's a set-it-and-forget-it mentality going on.
With this in mind, if you're spending over £200 per month on Express ads, arrange for me to call you back and we can talk about getting better results.
How to switch from AdWords Express to Google Ads
Making the move over is pretty straight-forward. I find the easiest way is to login to your account, then open up a chat box with a member of the AdWords support team.
Login to AdWords express, the click the menu button menu at the top. Find your customer ID under "Need help? Contact us."
Copy the ID, then open up a support chat and ask to switch from AdWords express to regular Google ads. The account should transition within 24 hours.